ROAD SIGNAGE &nbsp

The present format of 'Ministry of Transport' road signage has been been around since the late 1960s, but a handful of the old syle signs can still be seen on our roads today. The equal mix of old and new typifies the 1970s, and is another method of defining the era of a model.

These images show the old style signs which were photographed at Bridgnorth, Shropshire in 2007.

These were errected (or sponsored) by the RAC, and have their logo included.

Old style roadsigns reproduced for Shenston Road, made by Paul James on the computer.

Other street furniture, lamp posts, and buses help to define the area modelled.

The history and format of British road signs can be found at CBRD and is useful for designing and planning model road signs. This view shows some more signs by Paul for use on Wibdenshaw.

These signs have been drawn up by Paul James on one of the many standard photo editing programs, and printed onto photo quality paper. The signs are then mounted on brass wire posts (painted light grey for post 1970, and black for pre 1970 signs). The black lines around the green trunk road signs are not included on the finished item.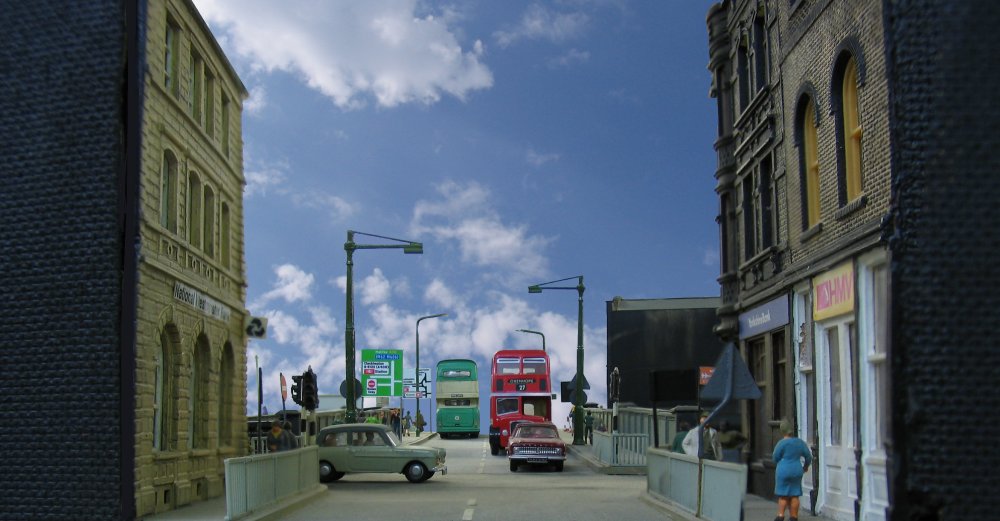 Period advertising situated at entrance to a Wills cobbled street with resin buildings.