A series of railway arches at Hornsey Broadway with various industries occupying the space below.

Railway retaining walls, a footbridge, and fly-over feature in this view at Hornsey Broadway.

This tunnel mouth has been built for Hornsey Broadway, and show the 1930s single bore alongside the original Victorian twin bore. The structure is scratchbuilt from plastic card, and painted and weathered to represent engineering blue brick construction.

Going Underground - 1959 tube stock disappears into the tunnel heading for Central London.

Access ramp and footbridge crossing the goods yard at Hebble Vale.

Stone retaining walls at Wibdenshaw - Peco embossed plasticard painted an overall lighter colour, then highlighted using matt paints. The pillars are constructed from the same material using 3 vertical strips glued together.

Signal box at Pudsey Junction where the Leeds & Bradford lines diverge. It is a Ratio kit with added detail and surrounding miscellania - including a brick built coal bunker, privvy, fire buckets and an asbestos clad shed.

Derelict building at Wibdenshaw.

The old gatehouse at Canada Road.

Hartburn station buildings.

The water tower, boiler house and offices at Hornsey Road depot.

The depot building and facilities block.

Toilet block at Canada Street.

Mess cabin at Morfa Bank Sidings.

Shenston Road north signal box.

A view of the parcels depot and station at Wibdenshaw.

The corrugated clad station building, with other huts in the background.

In the West Highlands of Scotland we afford a view of the railway viaduct under construction.

A closer view prior to painting and weathering.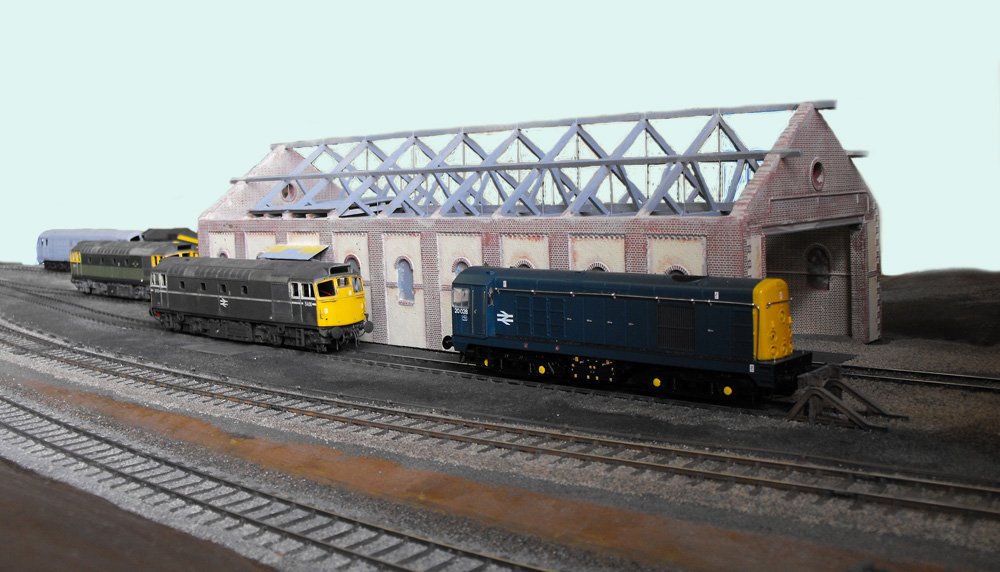 The locomotive depot on the West Highland project.


Streetscene&nbsp &nbsp Industrial

&nbsp