Street scene at Shenston Road.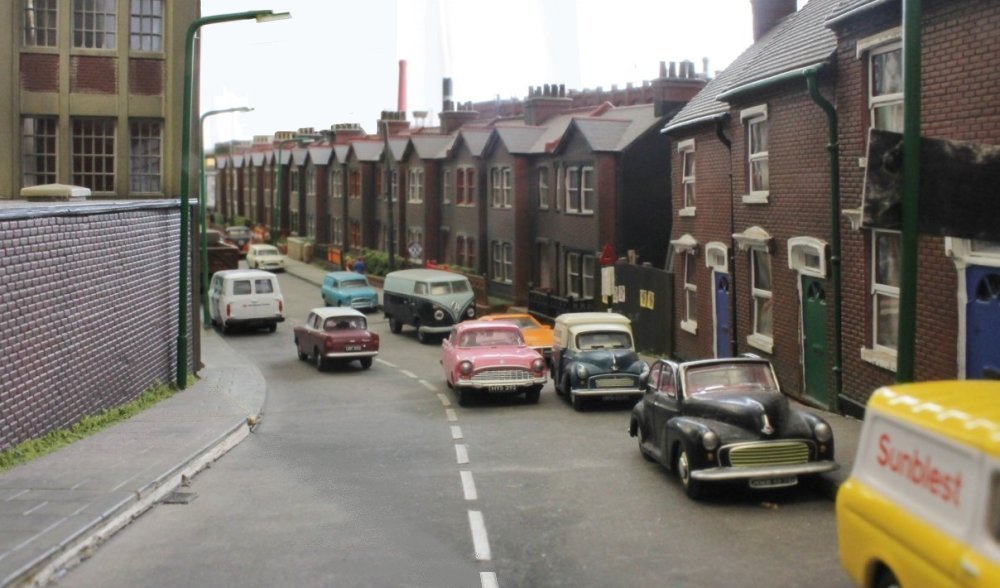 Street scene at Shenston Road.

A view looking down Hornsey Road, with the loco depot to the right....

...and looking in the opposite direction near the milk depot.

The buildings that form Long Row at Hornsey, overlooking the railway.

Retaining walls and steps at Hebble Vale, typical of the area around Halifax.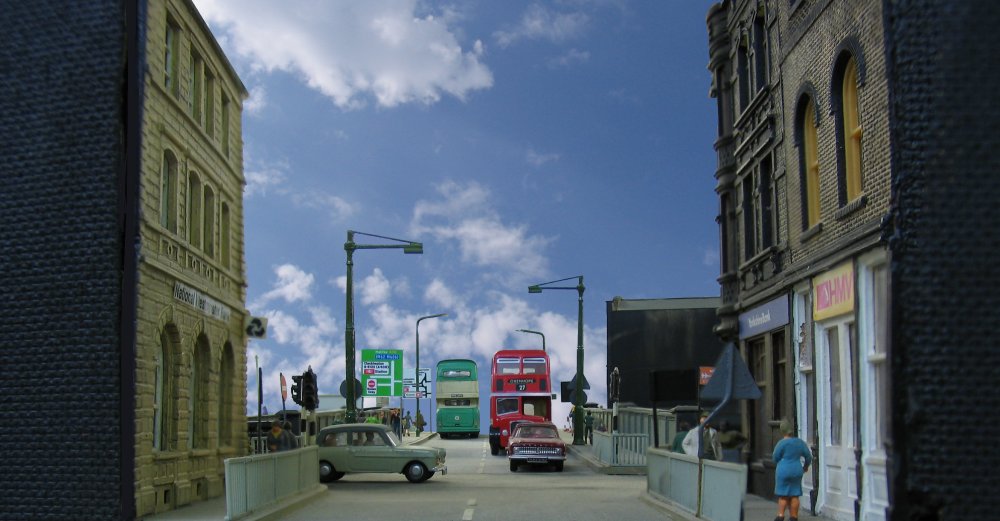 A view near the traffic lights on Sunbridge Road, Wibdenshaw.

A ex-Bradford Corporation 33ft Daimler Fleetline in WYPTE colours waits for the green light.

Bradford Road, Wibdenshaw during a busy moment.

The Bus Station end of Sunbridge Road.

Grocers shop at Morfa Bank..... "we sell everything".

.... and across the road is a patch of land awaiting development.

Shenston Road - Shored up house.

Shenston Road - Commercially available resin buildings, with the addition of improvised walling and extra detailing.

Shenston Road - Cast resin buildings by Hornby (Skaledale), and Scenix. The lamp posts are made from footbridge support columns, with added detail.

Some more Scenix buildings at Wibdenshaw.

The merchants house on Hornsey Road.

..... and in the process of demolition just around the corner.

Part demolished buildings for Hornsey Broadway.

Based on a reverse of the Tall Ships pub for Llanthony Road.

A Birmingham Fleetline (EFE) passing a row of houses (Hornby Kits) by the station at Shenston Road.

Morfa Bank - The two rather dubious residents of the yard are being visited by a member of the local Constabulary, who is waiting patiently at the gate.

Whilst PC Jenkins conducts his enquiries into some missing car parts, their dog Fido, is barking at the letterbox.

Meanwhile, their other mutt Jasper, is tangled up with toilet paper outside the rather basic 'facilities'....

Will re-inforcements be required, or will they come quietly?


Railway&nbsp &nbsp Industrial

&nbsp