&nbsp

A pair of BR mark 1 full brakes tagged on the tail end of an Anglo-Scottish sleeper train at Hornsey. (Bachmann)

A Ratio kit of an ex-SR bogie B. Certainly not the easist kit to put together and has suffered some minor warpage in recent years. Hornby produce this vehicle R-T-R now.

A Thompson full brake - previously a BG until the gangways were removed and plated over. (Bachmann).

An ex-SR CCT labelled as a PMV, which came this way from the Eastwell fleet, and is an ancient Wrenn model. In the words of Brian Williams it's still a fine piece of plastic moulding, given the model was originally issued about 50 years ago, and that the CCT below is recognisable as a K's kit due to the less sharp, and slightly 'rounded' finish to the planking.

A selection of parcels vehicles by Pete Johnson which are regulars at Wibdenshaw (not much call for them on Canada Street). All feature flush glazing and wire security bars added as required. (K's kit, ex-SR CCT).

Parkside kit of an ex-LMS CCT.

A BR mark 1 full brake (BG) in blue and grey livery and looking a bit grubby. Built in the day when it was common practice to splice up from a mix (and shorten) the Tri-ang Hornby BSK coaches, and stands up well to the Bachmann version.

An ex-GWR syphon G bogie vehicle, Lima based model from the modelling bench during the late 1970s....and (perhaps?) the time when Lima only did the outside framed version. An age was spent doing a [mad] convo' filling all the gaps between the framing with overlays, rubbing down, and then scribing the planking before adding the vents..... totally bonkers really, and probably should be replaced with the Lima RTR of the inside frame style in the name of accuracy.

Re-worked and detailed Lima GUV.

Ex-LMS GUV (Lima).

Ex-LMS BG (Mainline).

Re-worked and detailed Lima CCT.

This ex-SR CCT (Parkside kit) and the following vehicles by Greg Brookes for Shenston Road.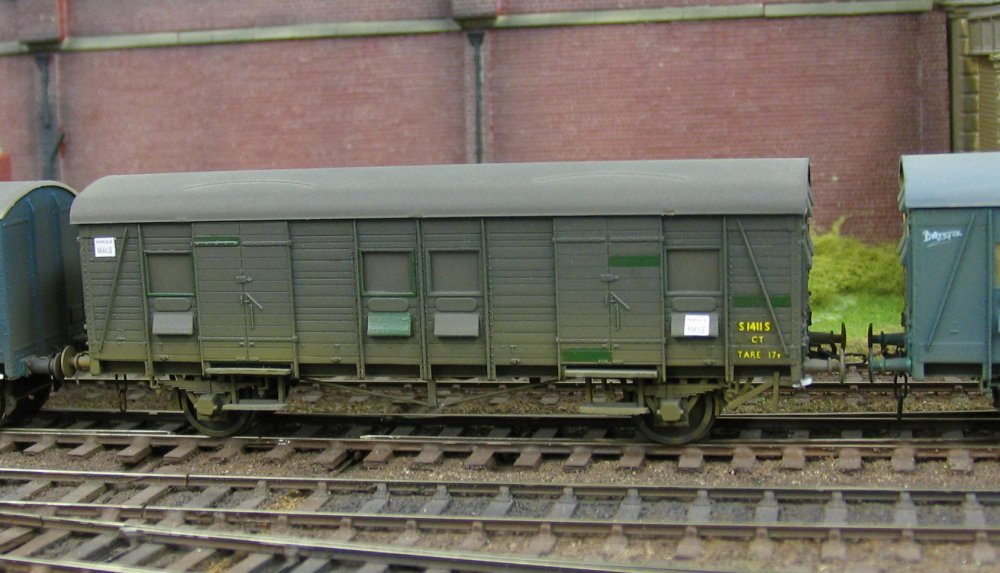 Another ex-SR CCT in green livery.

Ex-Southern PMV.

Ex-LNER CCT.

Ex-SR (Van C) BY.

Ex-LMS CCT.

A trio of SPV vans (ex fish traffic).

Ex-LMS full brake in blue / grey livery (Mainline).

Another LMS full brake.

BR mark 1 Royal Mail stowage vehicles.

Ex-Great Northern full brake.

M94693 is an example by Pete Johnson of a project to create a fleet of seven BR CCTs for use mainly on Wibdenshaw. The project was based on some cheap second-hand Lima models picked up over the years. Flush glazing with wire security bars has been fitted, as have MJT W-irons with 14mm disc wheels and clasp brakes left over from wagon building projects. All the door grab handles have also been replaced, using brass wire, before final painting and marking using Fox and Modelmaster transfers.

Re-worked and detailed Lima CCT.

Re-worked Hornby CCT M94453 at Hebble Vale Goods, by Karl Crowther. There's a very slight difference between the original body colour and patch-painted areas around the re-modelled windows, but hopefully this won't show once (heavily) weathered. Windows are the Laser-Glaze product, while the bars behind are 0.3mm nickel-silver wire pre-sprayed with grey primer. Electrification warning flases still need to be added to the van ends.

A Lima GUV being fitted with Bachmann BR1 bogies and correct size 14mm wheels. A packer under the chassis and rebushed bogie pivot using plastic tube is fairly straightforward.