THE UBIQUITOUS 16 TON MINERAL WAGON &nbsp

A ray of autumn sunshine lights up B175854, a standard Dia 1/108 mineral of welded construction. It has been modelled with typical 1960s markings, and the side door open as if unloading is in progress.

B115822 is a welded mineral to BR diagram 1/108. This was the standard design for the type, and was built in vast numbers by a host of workshops. This model is from the old Airfix kit, with weathering based on a photo from the late 70s, when there was more rust than paint on this particular example.

B39649 is a riveted 16 ton mineral wagon to diagram 1/105. The independent brake gear on each side shows that this type originally had bottom doors allowing unloading into coal drops – with the aid of a shovel. Later in their lives these doors were often fixed shut, and the small chevron marks on the side doors deleted as a result. I well remember the rarity value of five-figure numbered minerals by the time I was noting wagon types in the late 70s.

B579316 is a well rusted Coal 16VB typical of the fleet in the late 1970s when the elimination of non-vacuum braked examples was well underway. The model again makes use of the Airfix kit with transfers from an old MTK sheet.

B276453 is a re-bodied standard 16 ton mineral wagon such as produced in large numbers by the Horwich wagon works, and elsewhere, during the 1970s. The model is based on the Airfix kit with a bit of tweaking to remove the upper doors and adjust the framing pattern accordingly.

The last of the quartet is B9774 a slope sided mineral to Dia 1/100 also based on a 1963 photograph. The four-digit 'B' numbers used by BR tended to be on wagon types eliminated by the mid-1970s and I never caught up with one in traffic.

This Dia 1/103 mineral of riveted construction was finished as B26248 to a photograph dating from 1965.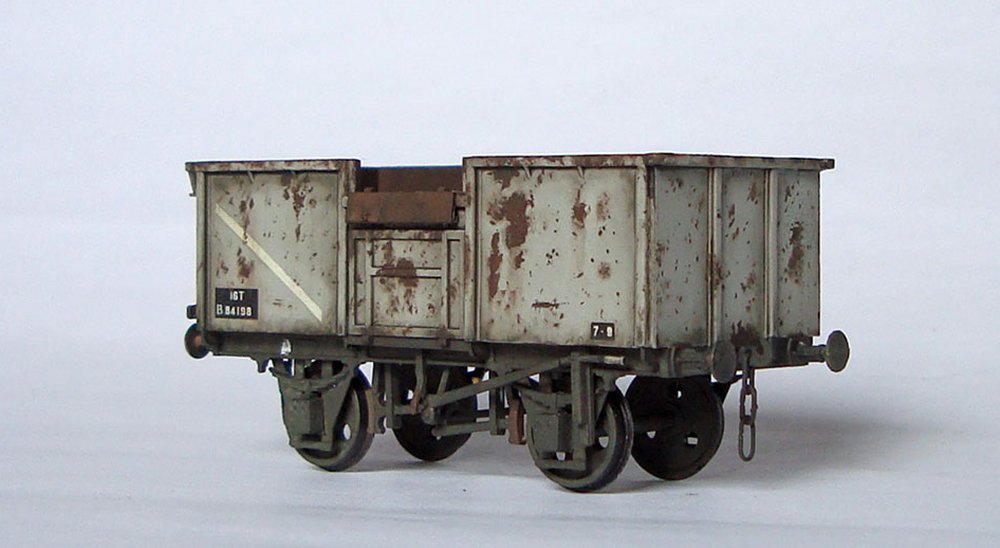 Dia 1/108 B84198, one of the most common design of 16 tonner, modelled as it appeared in the early sixties.

E290529 is the ex-LNER wagon, in a livery based on a photograph from 1963 when a panel replacement had been finished in grey paint of a slightly darker shade.

B192574 Canada Road.

Later in life some wagons were converted for steel carrying traffic as seen here at Shenston Road.

During the '70s and 80s it was common for 16 ton wagons to be used for traffic other than minerals.

16 ton mineral wagon being unloaded at Hartburn.