&nbsp

A brace of 21 ton hopper wagons in the siding at Hornsey Broadway (Parkside kits).

Until the introduction of the Parkside 21 ton hopper in 2007, the Dapol ready-to-run version was a good basis for modelling this type of wagon. This Dapol example has been modified to represent a re-bodied vacuum braked wagon, the bodysides having been re-built and extra detail added.

Fitted with wire handrails, vacuum cylinder and pipe running along the top of the solebar (TOPS code HTV).

Other R-T-R wagons retain the original riveted body to represent an unfitted version, and are enhanced with wire handrails and door operating levers fashioned out of brass rod.

To complement the modified wagons, several Parkside kits were built. This view shows some of the new wagons partly constructed, whilst a rake of finished wagons pass by on the test track.

At the time of writing (2011), Parkside produce 3 variants of the 21 ton hopper wagon. This view shows a number of re-bodied examples, finished in typical unfitted grey livery, although some took on a definate shade of brown once the paint had rusted off!

Looking smart in their bauxite livery, these two wagons are in ex-works condition, re-bodied & vacuum braked.

Another variant of the Parkside kit, showing one with little of the original paint, and one recently out of the BR workshops.

There's still a lot of underframe detail to be added, and number panels, but I feel it's always worth delaying some aspects of a model, if you're in the mood for painting.

Ex-LNER 21 ton hopper wagons under construction (Parkside kit).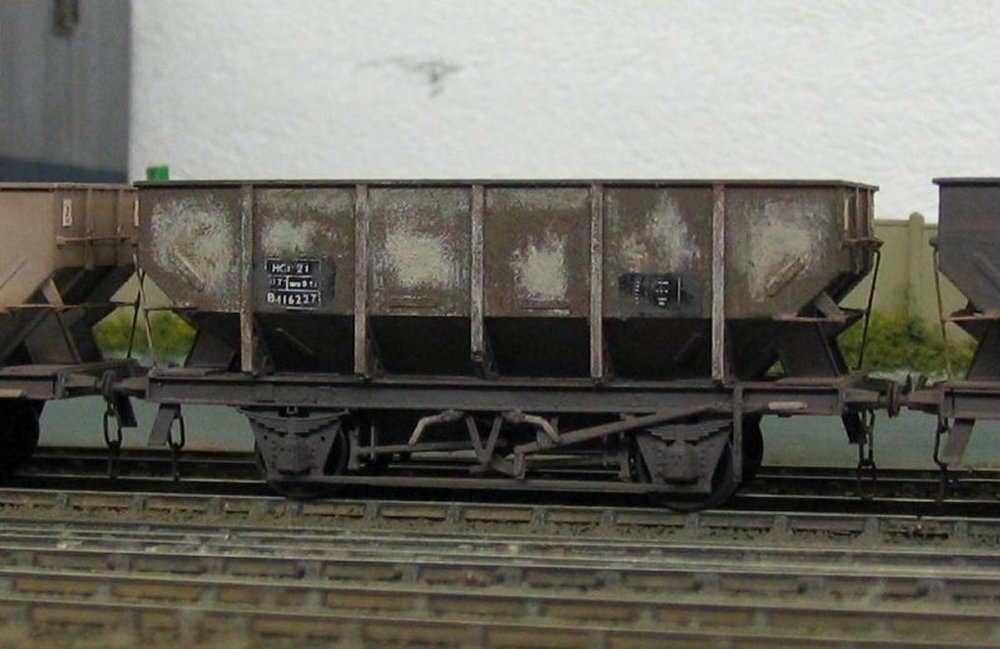 A Parkside 21 ton hopper wagon, completed and in service at Wibdenshaw.

Shenston Road hopper wagons as built and finished by Greg Brookes (Parkside kits).

The plastic buffers have been replaced with sprung versions with steel heads.

Other details include circuit working decals, made from yellow transfer material.

Ex-LNER 21t Parkside hopper wagon (Canada Road).

Hebble Vale Goods - A start has also been made on some weathering of the wagon fleet. This is a Parkside 21T hopper that has been painted and weathered using enamel paints – mainly Humbrol, but the dark rust colour is Revell Matt 84. Painting the intricate rust patterns on these vehicles is proving to be something of an artistic challenge, but I'm fairly happy with this first example.