GRAIN WAGONS - PETE JOHNSON

A selection of grain wagons, showing the construction, painting and weathering process. This view shows a BR variant being shunted at Canada Road.

A view from summer 2006 shows 6 BR standard Grain hopper body tubs, which have been scratchbuilt from 60 thou plasticard. This project was inspired by a trip down the A14 past the Newmarket grain silos. They will be mounted on adapted Parkside chassis parts, plus plastic L and T sections for the extensive detailing work to follow.

The six bodies had gathered dust for over a year, until the Aylesbury Railex exhibition in May 2007. Inspired by the high quality of exhibits at that show, I got the bit back between my teeth, determined to see this project through to completion.

July & August 2007 - The basic body to solebar join-up is complete in this view, and adding of the side stanchions is progressing. These parts were cut to size and spaced using simple jigs made from scrap 60 thou. The solebars were adapted from Parkside kit parts.

W-Irons, wheels, v-hangers and buffers have now been added using parts from MJT, Alan Gibson and 51L. At long last they are begining to look the part.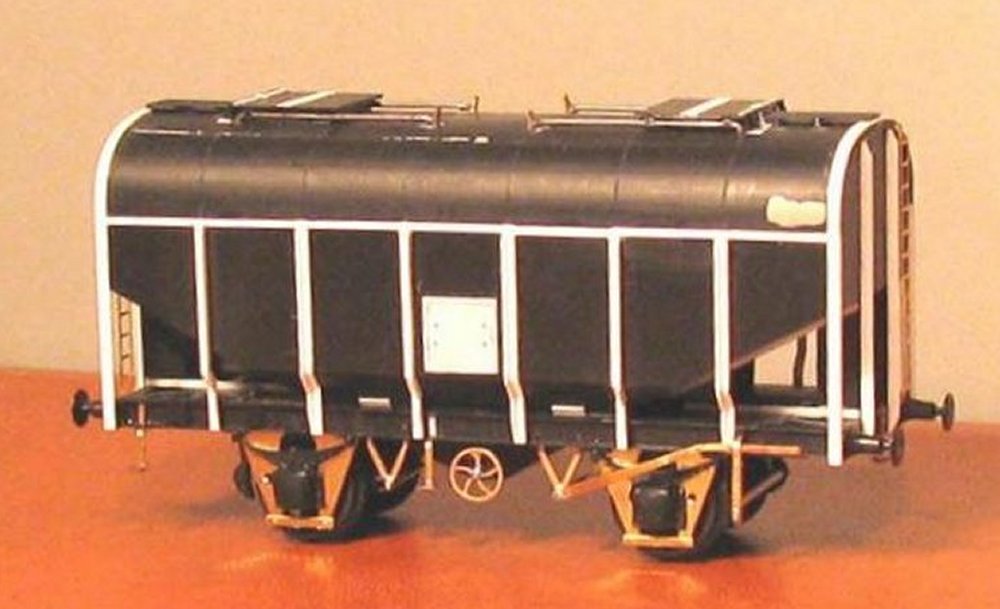 The lead wagon at this stage, complete except for grab handles and axlebox tie-bars. Each wagon is made up of well over 100 individual parts - madness!

Always one of my favourite wagon types, they should look good when the painting, lettering and weathering are completed!

September 2007 - The lone bauxite wagon models one of the small number of vacuum piped versions of the Diag 1/271. (The fitted varient of the wagon featured a longer wheelbase and other detail changes). These piped wagons were very similar to the unfitted type, but with oleo buffers and roller bearings from new. This model will be weathered before the markings are applied as these are to be on patches of fresh bauxite paint.

This is one of the unfitted Diag 1/271, which are painted and lettered, before weathering begins.

Transfers are a mix of Fox, Modelmasters and a very old MTK sheet. All six will be finished in an appearance typical of the 1970s, when a wide variety of marking styles (and rust!) were to be seen.

This and the following images show the completed grain wagons, which made their debut on Canada Road at the NEC Warley exhibition in November 2007.

Now onto a series of views of possibly the most time-consuming wagon model I've ever built…… During research for my scratchbuilt BR standard grain hoppers, a similar but different, steel hopper wagon appeared in several photographs. These were the ex-GWR Dia V25 'Grano' of which just 12 were built in 1935, yet some remained in regular use well into the 1970s.

On mentioning it to friends as a possible project I quickly found out that the type had been the subject of a 'K's whitemetal kit many years ago. Neil Ripley generously donated a kit, and things seemed to be well underway…… but on closer study it turned out to be rather coarse scale, with strapping too thick and detail rather basic – and the weight would probably have caused problems amongst my generally lighter wagon models. Eventually I hit on the idea of creating a resin mould tool off a slightly re-worked whitemetal bodyside – to allow press-mouldings in plasticard to be made. After some trial and error the right oven temperature and method were found, and I got a set of useable panels in 80 thou black plastic. These were then the basis for a complex jigsaw of plastic and brass. Scalelink etched strapping was used over a roof laminated from more 80 thou and filed to shape. The underframe was adapted mostly from Parkside parts, with 51L etched brake levers. Missing rivets were added Geoff Kent style, one-by-one, using tiny cut off pieces of stretched sprue.

The finished result is shown with the basic livery applied. W42316 is pictured by Paul Bartlett in 1976, complete with boxed-style markings, and must have been one of the last survivors of the type.

Final weathering saw the model completed in time to run amongst the grain hopper rake on Wibdenshaw at the 2011 NEC Warley show, where it added useful variety to the train formation…… and was spotted by at least a few wagon enthusiasts.

A view showing the wagon in use at The Brewery.