COVERED HOPPER WAGONS &nbsp

Canada Road scratchbuilt Covhop by Pete Johnson.

Canada Road scratchbuilt Covhop.

03111 shunts a Covhop wagon in Wibdenshaw goods yard, as a rake of them pass by on the main line.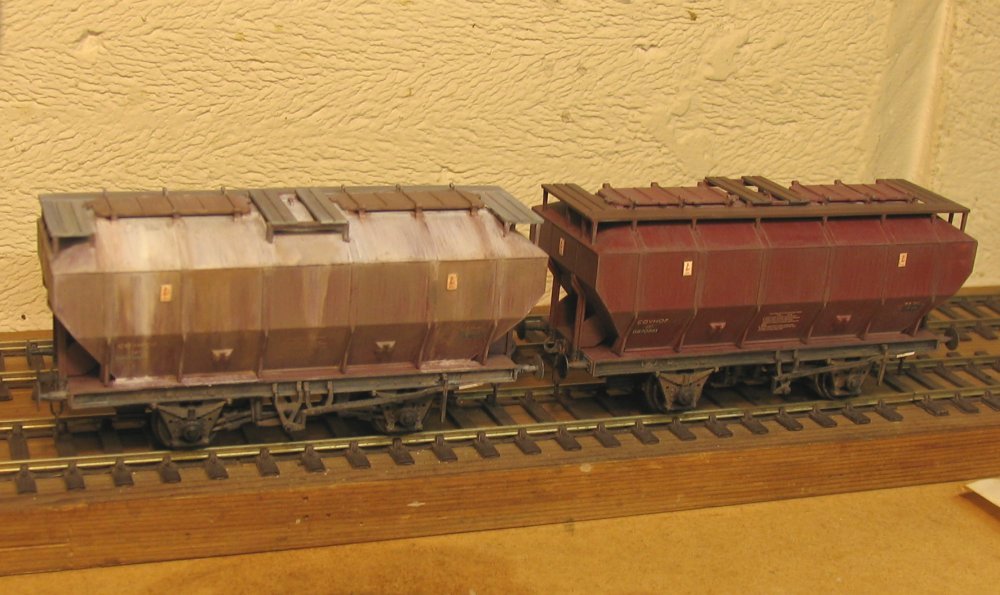 Bachmann Covhops on the Hornsey Broadway work bench....

... and later seen in a formation at Wibdenshaw.

Five unfitted Covhops are spotted in a mixed freight heading south at Wibdenshaw.

The Bachmann model is nicely detailed straight out of the box, but as always there are several ways to improve and represent different variations in the fleet. The roof walkways have been painted to highlight the wooden planking with fixing bolts and associated weathering.

Bachmann have incorrectly fitted the 2 'V' hangers to the outside of the solebar on one side of the unfitted Covhop - this arrangement was only found on the vacuum braked examples. It's an easy enough job to snip off the offending outside bracket and fit a replacement inboard as shown here.

The OHLE flashes appear to have been fitted on a ad-hock basis, with no particular specification regarding the quantity or positioning, and were fitted to blocks mounted on the bodyside. To represent the depth of the block on the model, the transfer is left attached to the backing paper and stuck on with superglue.

B886291 has roller bearings by 51L Models, the oil boxes having been cut off with a Dremmel and burr, and brass pinpoint bearings fitted into the axleguards. Different styles of roller bearings were fitted to the fleet of Covhops, so it's always worth referring to a photograph of your chosen model. As always, Paul Bartletts wagon website is invaluable for reference - details are on the links page.

There is also a useful article in Rail Express issue 217 (June 2014) by Trevor Mann in the modelling section, which outlines the history of this wagon type along with some excellent colour images. In the same issue, Alan Monk describes some simple upgrades to the model.

Unfitted Covhop at Wibdenshaw.

Shenston Road- Bachmann fitted Covhop.

Shenston Road- Bachmann fitted Covhop.

Shenston Road- Bachmann fitted Covhop.

Shenston Road- Bachmann fitted Covhop.

Shenston Road- Bachmann fitted Covhop.