Class 25

Class 25/0 - 25002 at Wibdenshaw.

25002 is seen with 24082 on the headshunt at Pudsey Junction stabling point, Wibdenshaw

Class 25/1 - 25027 Shenston Road.

25043 - A Shenston Road loco at Hornsey.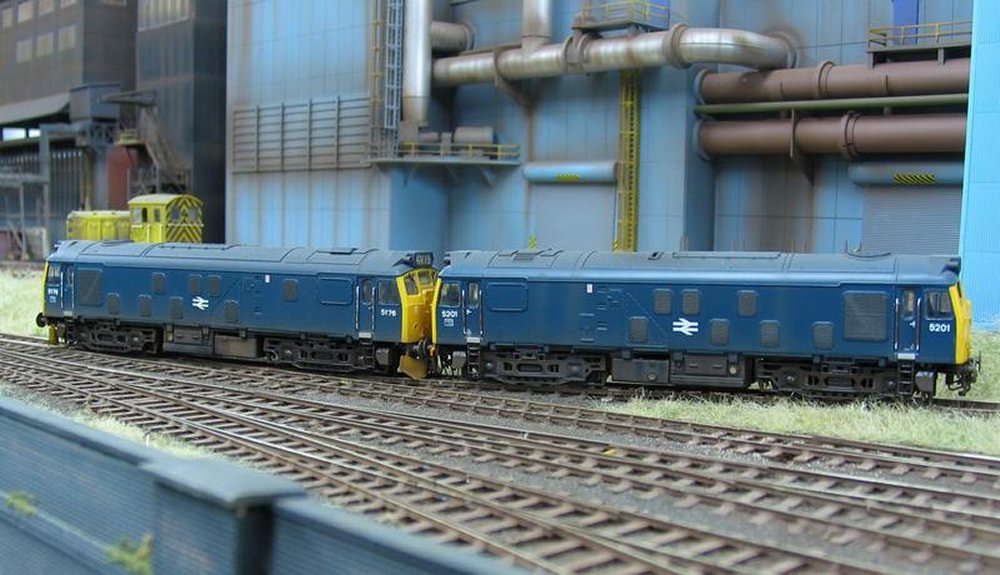 Double headed class 25 at Shenston Road.

Double headed class 25 at Shenston Road.

Canada Road - A rarely photographed model is 25 052, a re-work of the Hornby Class 25. Currently it has two of the original 3-pole Ringfield bogies fitted, which gives good load hauling, but not such good slow speed performance. This has limited its use on Canada Road, and a conversion to a single 5-pole power bogie is planned.

Green D5204 was modelled to a picture from 1965, and reflects the era before depot washing plants were common, and locomotive cleaning in general had been minimised in an attempt to cut costs. This particular loco would have carried the GSYP livery from new, and retained it until 1969 at least, but would have probably had self-adhesive datapanels applied around that time.

The two new Class 25/1 models based on a Hornby/Bachmann combination have made rapid progress and were completed in time for some test running on 'Easington Lane' during the Wakefield show in November 2009. Rail blue 5216 is finished as if recently through the washing plant. This livery would be typical for the 1969-1974 period, up to the adoption of TOPS numbering.

D5204 is pictured again, this time running through Easington Lane station, with the Blue Circle depot busy in the background and a Met Cam 101 awaiting the timetable. The weathering of the bodysides was done with Humbrol matt varnish heavily tinted with a mix of matt Dark Earth and Black. This was applied with a brush, and worked to remove any obvious brush strokes before it dried. As it dried, the windows, yellow panels, and other small areas, were selectively 'cleaned' with a smaller brush or cotton buds loaded with clean white spirit. I find this technique works best if completed quickly, and in quite large panels, to avoid 'tide lines' between work areas. It is definitely one to practice on scrap stock before attempting a prized model. Overall it worked well on D5204, and the final effect captures the character of the prototype I feel.

Shenston Road.

Shenston Road.

25209 visiting Karl Crowther's layout.

25209 visiting Karl Crowther's layout.

Shenston Road.

A pair of BR Derby / Sulzer type 2 numbered 7660 & D7532 haul a train of vans south en-route to Tinsley Yard, whilst a Calder Valley DMU approaches the station with a service from Bradford.

25 242 was Canada Road's first Hornby/Bachmann hybrid, as featured in Rail Express magazine when first completed. Since then it has proved a reliable performer, seeing use on Canada Road, Wibdenshaw and Easington Lane at various times. Modelled to a photo of it rolling through Manchester Victoria on a mixed freight, it always brings back good memories of those carefree 70s summer days sat on the platform end GPO trolley…..

Class 25/2 Hornby conversion D7629 has been treated to new flush-glazing and a Hornby 5-pole mechanism, and looks set to become a 'Canada Road' regular at shows.

25274 at Hebble Vale Goods is a Hornby / Bachmann hybrid.

D7659 - Canada Road.

.... visiting Karl Crowther's layout.

A pair of Pete Johnson's class 25s seen at Wibdenshaw. The adaptations involved have previously been the subject of a feature within Rail Express magazine No.102 - November 2004.

Go to class 26 - 31&nbsp &nbsp Go to class 14 - 20