&nbsp

Hornby 3 car class 110 DMU with a few additional details. Robust Smiths 3-link couplings have been added for multiple working, and dummy jumpers in white metal by Craftsman.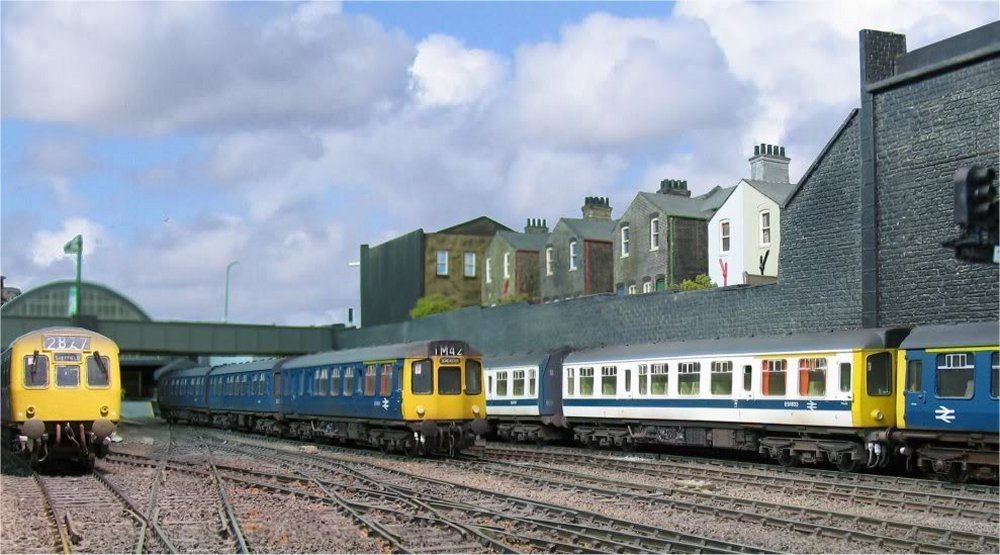 Class 110 DMUs at Wibdenshaw C1976. The recently adopted white livery with blue stripe represented a refurbished unit, but the livery was short-lived giving way to blue / grey coaching stock livery by the 1980s.

Other embelishments such as curtains painted inside the glazing in the first class section help to improve the model. The glazing was 'before its time' when released by Hornby in the 1980s, and still holds up by today's standards. I don't believe the extra effort to reglaze would hold much benefit to the model with its shortcomings and dated motor bogie.

Although the old Ringfield could be made to work well, it needed a lot of maintenance to keep going reliably, so it was decided to re-motor using the new generation Hornby motor bogie. A small amount of construction from plasticard is required to mount the replacement unit in place.

The cab windscreen apertures benefit from being painted black, hiding the slight recess of the glazing, and the roof shot shows a dusting of soot around the exhaust stacks.

A one time regular on Holmeworth was this blue / grey WYPTE MetroTrain, representing the power-twin formations used in the latter days. The slab sided underfames can be enhanced by picking out the engines and heaters out in silver, and exhaust pipes rusty brown.

With the dateline for recent projects being firmly in the 1970s, the Wibdenshaw blue / grey sets were repainted all over blue as seen below.

Kaydee buck-eye couplers are used within the sets, with 3-link couplings at the driving ends.