PETE JOHNSON (CANADA STREET)

A fire escape for the Burtons building is nearing completion, although a counterweight system for the hinged stairs still needs to be added. The escape has been made by adapting parts from three of the Langley etched brass kits.

A Sea Gull's eye view of the Downing buildings before weathering. This view must give a taste of the appearance they would have had in the early 1900s, soon after the Gloucester maltings were extended, although for the model the floorplan of the buildings has been changed quite a bit to suit the layout.

A street level view showing the route the railway lines will take, between the two buildings, to access the rest of the docks.

The waterside building awaits weathering paint - which will aim to add the grime of more than half a century.

A close-up view, highlighting some of the detail under the connecting over-bridge.

The R&W Paul building is also getting painted, with Humbrol matt 28 giving a good base for the layers of cast concrete. Final weathering will add the brown tones found on old concrete.
**************
KIER HARDY (HORNSEY BDY)

I think I'm about half way through the Hornsey Broadway layout project, and probably a good time to record progress to date. This is Baseboard-A, and although all of the trackwork is complete, the points still require motors and relay logic for route control. Most of the surrounding buildings have started to take shape, but still require detailing and weathering.

Baseboard-B lacks any foreground structure due to the incomplete background. Any reaching or stretching over the 3ft depth of scene may cause damage to the nearer structures, so generally these remain removable until the last phase of scenic work.

The background buildings are almost complete in this view of Baseboard-C, and a start has been made on the foregound area.

Baseboard-D is the most complete to date. Most of the scenic work is in place, with just some trackwork to finish on the upper level adjacent to the 24.5 ton mineral wagons.

There is still a lot of trackwork to build around the depot throat and fuelling point on Baseboard-E, with most of it marked out ready to construct. All the buildings are removable, giving a large flat area for ease of access.

The depot building and holding sidings are nearing completion on Baseboard-F, with only a small amount of trackwork required towards the back of the scene. With each 4 foot long baseboard being aligned to the next with pattern-makers dowels, they're easy enough to separate and swivel around to access different parts of a scene.

It's now time to take a break from Hornsey and revisit Wibdenshaw, which will be appearing at the Crawley MRS exhibition in April. A fitting transition from North London C1970, to West Yorkshire C1976 comes in the form of 03111 featuring a tea stained cabside! Long term resident at Bradford Hammerton Street, it is seen here paired with ex-'conflat A' number DB701983 to aid with track circuiting.

The 3 hoppers are at the painting stage and awaiting number transfers.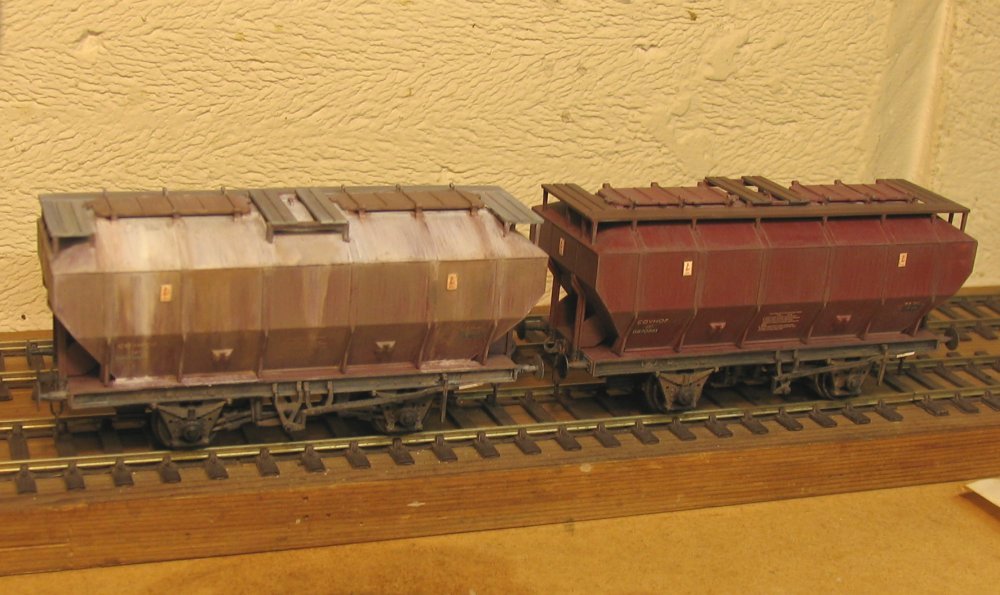 These 2 Bachmann Covhops were bought in the BIS Rockware livery, which has been removed with methylated spirit and a cotton bud. One looking rather scruffy in their own unique style, and one with a more workaday look about it.

The Covhops are basically straight out of the box with replacement wheels & couplings. The weathering has been achieved by applying several thin washes of paint at different times during a 10 day period (I prefer to use enamels), with each wash being toned back with a brush dampened with thinners. Too much thinners will have the tendency to wash away any paint you have applied, and keep the brush strokes flowing with gravity, put to one side and leave for a couple of days. Keep going back to apply more washes of paint, but more importantly, add a different colour each time. It's always best to work from a photograph of your chosen wagon, and Paul Bartlett's wagon site (link on links page) is invaluable for this process.
**************
Paul James helped out at the 2014 Bristol 0 gauge exhibition, operating Bill Connelly's layout
'Blowers Green Wagon Repair Yard'. Although the scale is far removed from the normal website content,
Bill's attention to detail is excellent and there's a 70s theme, so I think it deserves a guest spot!
************** &nbsp &nbsp GUEST SPOT &nbsp &nbsp **************
BILL CONNELLY (BLOWERS GREEN WAGON REPAIR YARD) GAUGE 0 LAYOUT

Blowers Green wagon repair yard.

Blowers Green wagon repair yard.

Blowers Green wagon repair yard.

Blowers Green wagon repair yard.

Blowers Green wagon repair yard.

Blowers Green wagon repair yard.

Blowers Green wagon repair yard.

Blowers Green wagon repair yard.

Blowers Green wagon repair yard.

Blowers Green wagon repair yard.