KIER HARDY (HORNSEY BROADWAY)

I recently purchased a Langley whitemetal kit of a cement mixer, and spent a couple of hours putting it together and painting it. The mixer will form part of a load on the back of a builder's pick-up truck, together with ladders, tools and other associated clutter.

The chosen vehicle for the builder is a Base Toys 'Sunblest' delivery van with a swapped dropside body, suitably weathered and fitted with a dashboard and driver.

A selection of people have been assembled ready for painting and populating the area around the station to emphasise what a busy place Hornsey Broadway is. There's a real mix of Prieser, Airfix and some whitemetal figures, which have had their bases cut off and pins fitted to the legs. This method makes for easy placement and handling during the painting stage, and for securing the figures to the pavements when finished.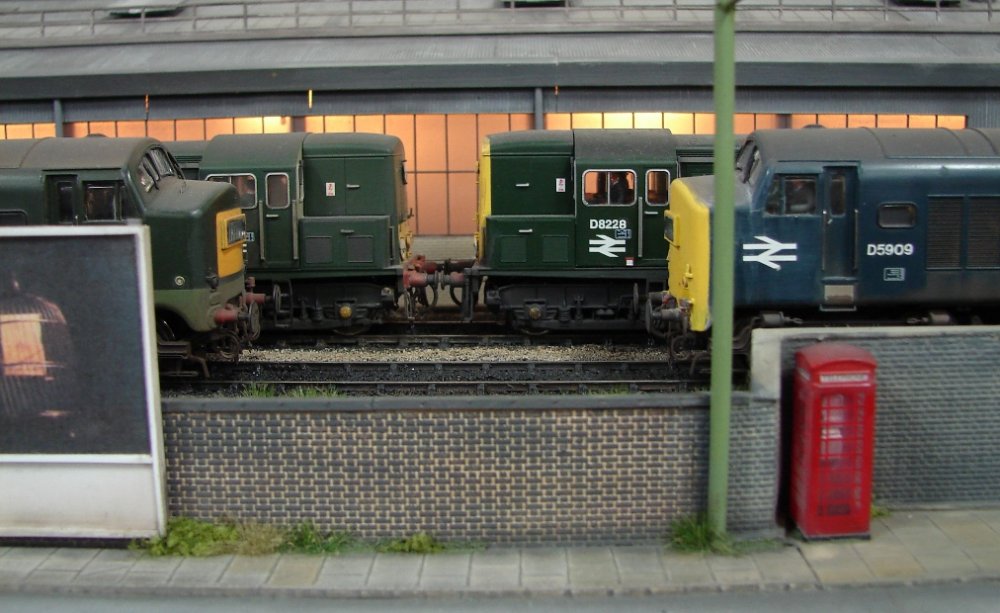 The locomotive depot baseboard was shown at the Cheltenham model railway exhibition in October, and this image was snapped by our roving reporter Steve Harrod from the top deck of a passing bus.

Excited with what was on shed, he quickly disembarked and managed a few more snaps. Western Region NBL diesel hydraulic interloper is seen awaiting a trip back to Old Oak Common after working a transfer freight.

A brace of BTH type 1 locos D8242 & D8228 await their next turn of duty.

Eastern Region motive power undergoing maintenance inside the shed.

Hornsey Broadway featured in the Model Railway Journal No 218 (published on the 11th of October 2012).
**************
KEITH TRUEMAN (LESNEY PARK)

I have reduced the length of the boiler exhaust port grille fins by half on my Dapol class 22, by first using a scalpel to scrape them away, and then to be filled in with a shim of styrene sheet and finally smoothed over with some model putty.

The now corrected boiler exhaust port on 6320.....much better!

6320 recovers after its minor surgery in the parcels platform road, and now sporting its modified boiler exhaust port. The loco is also sitting on its now re profiled and regauged wheel sets to EM gauge, done for me by a good friend.

Having purchased some Hornby Mk2d coaches to go with my Deltic fleet some time ago, I decided that they sat too high above rail level, and so didn't look right. As seen here, the coach is dismantled in readiness for the lowering process.

The Hornby bogie pivot securing method was discarded in favour of a metal screw to pivot around instead. This requires the hole to first be filled in, in this case using some scrap sprue from a plastic kit after which with a little sanding, was a nice fit.

The plastic plug now glued into position, and when dry will be drilled out to accept a fixing screw.

This photo shows the underside of one of its bogies about to have the centre pivot hole rim removed by a chisel knife. This is done in order to glue a plate flush on the underside that will accept a fixing screw through to the chassis. Thumbs, digits and other appendages well out of the way for this operation!

Job done, and back on rails. On the left can be seen the unmodified Mk2d coach compared to the now lowered item. All that is needed now is to re number it for east coast services, and some light weathering.
**************
PETE JOHNSON (CANADA STREET)

The white panels shown last month have made steady progress into the main shell of one of the principle buildings on the layout. In this view the roof structures are highlighted – aerial photographs of the UK, available from web-based mapping sites, have been invaluable for research of this aspect.

In this close-up some of the ground floor detailing is shown, but still with much to add.

……and the wife says I never help with painting the window frames!? After prepping with white enamel, the set of frames for the building are seen drying. These are brass etches by Geoff Taylor. Click here to visit the GT Buildings website which illustrates the vast range of architectural etches, and galleries featuring many of Geoff's completed buildings.

The company name on the building has been marked out in pencil ready for painting. The R&W Paul Ltd building was long a landmark of the Ipswich waterfront, and is the basis for this model. In the 1960s it also featured several times as a backdrop for diesel shunter publicity pictures. Canada Street, as Canada Road did before it, makes use of real buildings from various locations around Britain as a source of inspiration.

The dockside loading structure has now been clad in Slater's corrugated texture plasticard, but still lacks the roof apex strips and downpipes.