PETE JOHNSON (CANADA ROAD)

After a long wait on the 'to do' shelf the three Heljan Hymeks are finally getting some attention, this view shows the shells of D7005 and 7076 nearing completion. This superb model needs very little improvement, but the glazing has been re-set more flush, nose-end handrails replaced with 0,31mm wire, and the cab roof dome-shape reduced in height by about 0,6mm after much studying of photographs.

Roof fan detail has been added using Scalelink 0,75mm fine square mesh and cooling fans made from plasticard.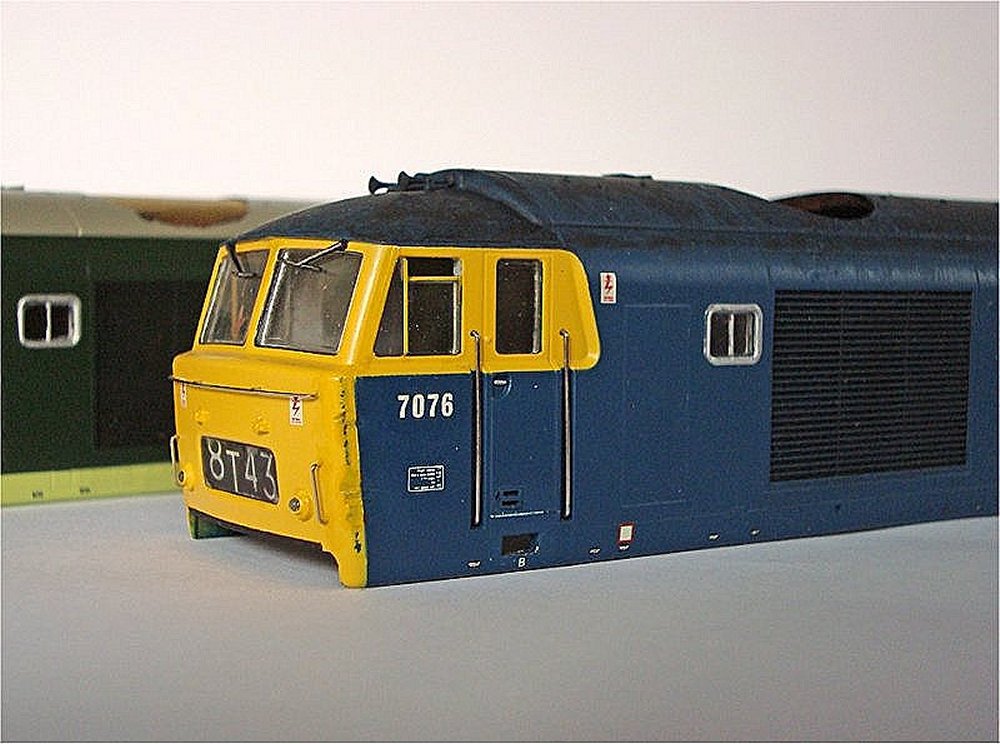 7076 was unusual in carrying vinyl numbers at one corner after severe crash damage in 1967. That cabside must have been jinxed as web photos show more scrape marks at the same corner several years later with the loco in rail blue, this damage has been added on the model.

A couple of Ratio BR diagram 1/051 Clay Hoods are being reworked after being bought 2nd hand in part-built condition.

And now for something completely different........An LNER J27 0-6-0 (from the Dave Alexander kit) is nearing completion, this loco is for Ian Manderson's steam/diesel transition era layout 'Hartburn'......now, where do the air-horns fit??

From a similar mid-sixties period, here is Class 26 D5328.

....and a Class 27 stablemate 'D5410' in typical neglected sixties condition. Originally used on the London Midland region, this loco retained this livery into 1968/69 after transfer to Scotland.

Some wagons from the same era have also recently been completed:- BR diagram 1/001 'Lowfit' with a tractor delivery as a load. One morning spent surfing the web turned me into a minor tractor expert, so I now know this is a 1960 Fordson Power Major in standard factory colours, and a superb replica of the original too, once the wheel width spacing is reduced a little (available from Oxford Di-cast / Hornby Skaledale).

....and an ex-GWR 'Conflat A' of 1947 with an insulated container. This wagon design continued in production almost unchanged under BR, so makes for an easy conversion from the Parkside kit. The main visual change is the chain shackle points as BR added more positions down each side.

The final chapter of a long running OMWB story! An ex-private owner Iron Ore hopper from 1938, as indicated by the 'P' prefix to the running number, now weathered to a typical mid-sixties rust-spotted condition. Wagons such as these lasted into the mid-1970s on limestone traffic around the Peak district and elsewhere.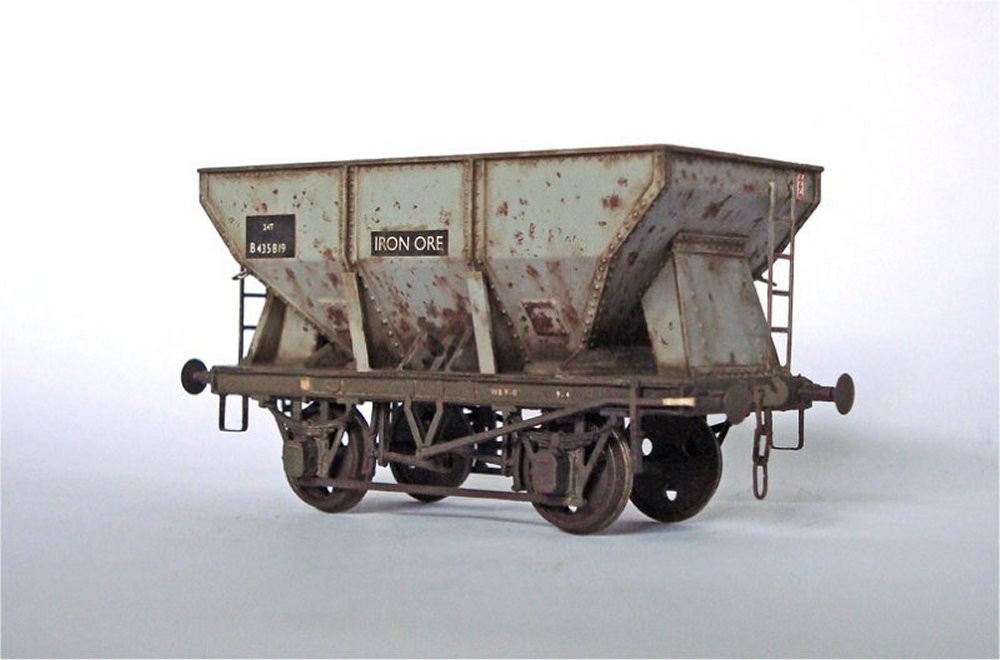 Shown here and below are another couple of rusty ore hoppers, this time to the BR diagram 1/162. This design was a direct carry-over from the private owner fleets built before 1948, and again lasted into the 1970s, rivets and all.

One of very few survivors is now on display (with several other unusual BR wagons) at the NRM Shildon out-station, still in true-to-life rusted condition!

Class 25/2 Hornby conversion D7629 has recently been treated to new flush-glazing and a Hornby 5-pole mechanism, and looks set to become a 'Canada Road' regular at shows.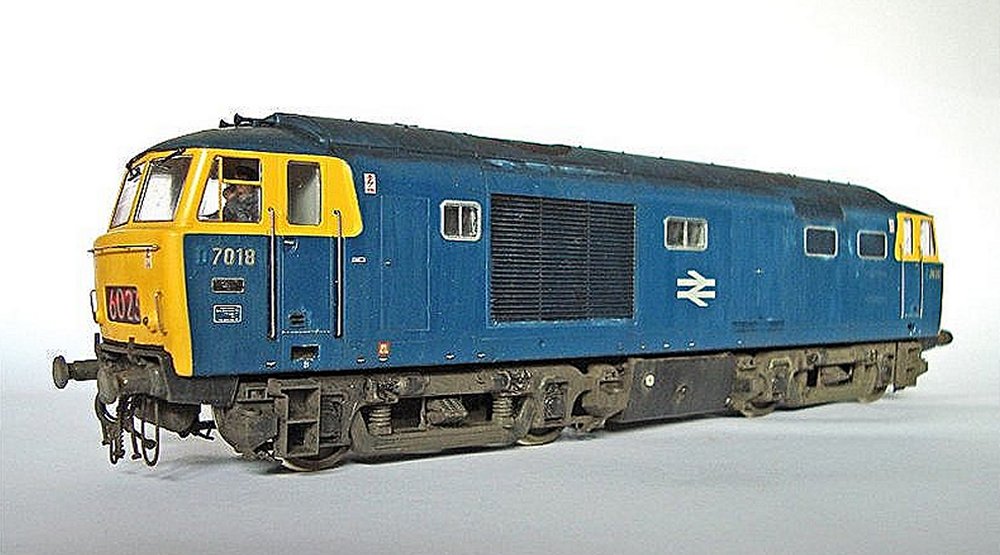 Finished Heljan Hymek 7018 in early 1970s condition. The Shawplan etched loco numbers are a useful finishing touch, fixed using gloss varnish they are a real challenge to position and line up accurately! These numbers allow the authentic over-painting of the 'D' in blue, as became common after late 1968 when the use of the D prefix on the BR diesel fleet was officially dropped.
**************
STEVE NICHOLLS (ROATH)

Further scenic work has been carried out on Roath, as shown in this view. The buildings in the background enhance the scene of this South Wales based layout.

As well as building up the rolling stock fleet on Roath, a slight digression has occured with the appearance of a 12ton van kit in gauge 3. Although out of the remit of this website, it does offer an interesting comparison against a 4mm version.