KIER HARDY (HORNSEY BROADWAY)

The trackwork is 90% complete at Hornsey Road Depot, so it's time for a change from working on the layout, and concentrate on some rolling stock instead. In the meantime, here's a few snaps taken on shed.

Listening to the Napier roar.

A line up of English Electric type 5 Deltic power, bolstered up on this occasion with 3 from Shenston Road (to the right).

These ex-Wibdenshaw class 25s (Bachmann) have just been back-dated to suit the early 1970s period, and shows the variations in cab decoration.

Three of Greg's hydraulics (centre) join the Hornsey Warship & Western, bringing back memories of holidays in Devon.

Thank you to Alan in Northamptonshire, and Mike in Wiltshire for helping me to find the 1969, 1970 & 1971 edition of the Locoshed Book. Although not wanting to turn this website into a Trading Post, recent tidy-ups and clear-outs have resulted in a few items for disposal - please have a look at the Items for Sale section, which will be regularly updated until I get some shelf space back!
**************
PETE JOHNSON (CANADA STREET)

A quick swop-body project has been Class 03 'D2027'. Making use of the Bachmann re-tool in a mid-60s green livery, this will be a useful alternative appearance for the mechanism from all-green D2019.

With the small amount of detailing complete, the shell was weathered in time to appear at the London Festival of Railway Modelling late in March.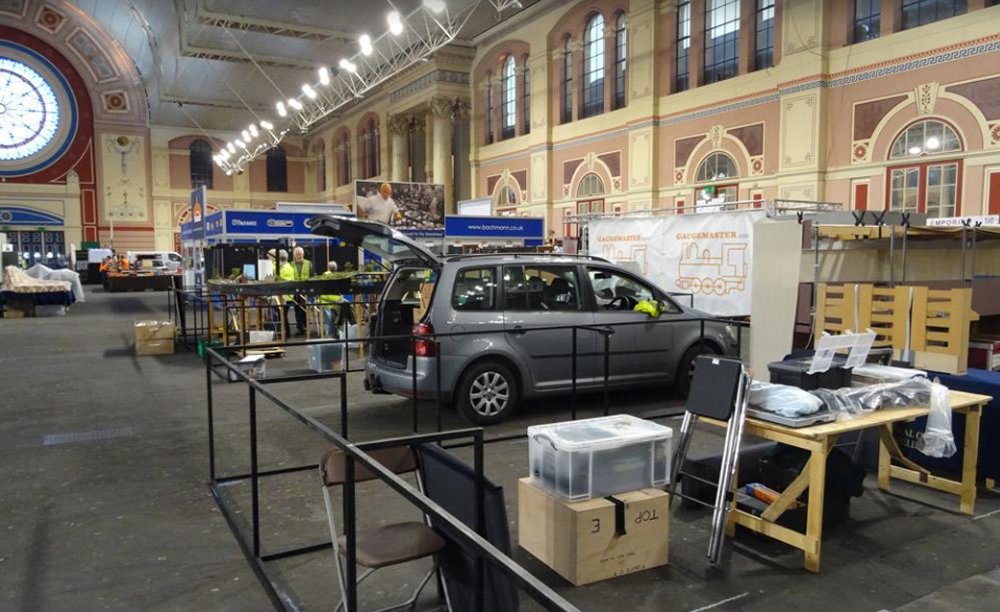 Alexandra Palace was another drive-in unload, this view being early on the Friday evening as set-up begins.

"…some of the fans are on the pitch, they think it's all over!!"…..a busy scene from during the Saturday - traction inspector James discusses his views on dress code for layout operators with driver Manderson, and a snapper with a back-stage pass captures the action in front of a packed house – Thanks Paul and Ian for some superb operating, and to all who came for a look at the layout!

Back on the hobby bench, the two Class 17s make steady progress, D8610 (GFYE) ready for weathering……

….and GSYP D8599 at the same stage.

The same bodyshell a few days later, with typical mid-60s grime added.

Another Hornby Class 08 is also well underway. 08 296 will be finished in a well faded condition to replace long serving Lima-based 08 114.

The build of the two North British 0-4-0s has taken over 3 years so far, but is finally nearing completion. D2774 is pictured after addition of the livery details.

With those two Mike Edge kits almost done, I have launched into a third….. the Hunslet Class 05 low-roof 0-6-0 bodyshell went together well and is pictured almost ready for paint. This is to be finished as an Ipswich loco from the mid-60s.

D3381 takes a well deserved rest, awaiting the next shunting task at Canada Street.
&nbsp &nbsp
**************

&nbsp &nbsp March 2017 &nbsp &nbsp May 2017 &nbsp &nbsp Site Map for Archive Update Pages
&nbsp &nbsp
**************
Click below for the homepage & index, and 'refresh' page for the latest changes.