GREG BROOKES (SHENSTON ROAD)

Brush type 4 number 1813 gets ready to depart with a service to Paddington, the extensive factory buildings of Allied Automotive (Shenston) forming the backdrop.

It was a bit of a gloomy day when this Southern Region pairing were captured passing through the station, just as NBL class 22 number 6326 came into view.

A good vantage point from the roof of BSC Shenston overlooks the canal and railway, as an unidentified Western emerges from the south tunnel on the approaches to the station.

There have been several tank wagon projects in the works lately, and this view shows a Bachmann 100 ton wagon having just emerged from the paint shop. The livery and logos have been changed to represent an earlier era vehicle.

Seen at Hornsey Broadway is Western Region Brush type 4 number 1665 Titan with bogie tank wagons heading for Ripple Lane. This rake of Gulf branded wagons have been in the Shenston Road fleet for some time, and have recently been fitted with Colin Craig sprung bogies.

Heavily modified GL823 uses the Hornby tank wagon as a basis. The bogies have been tested at home on Shenston Road and 'on tour' at Hornsey, and have performed faultlessly. Now just some light weathering required to blend them in.

BRT20285 can usually be found hired in as an addition to the existing rake. This wagon has been virtually scratchbuilt using just a Hornby tank barrel to start with.

With all this tank wagon activity going on, I couldn't resist the urge to take the Procor wagons out for a spin in a North London setting, captured behind English Electric type 4 number D423. The basis for the majority of this rake are heavily modified Lima 100 ton tank wagons, with 2 others which are 90% scratchbuilt apart from the bogies.

A close up view of PR 78506 which was constructed using the Hornby tank barrel with new ends and scratchbuilt chassis.

The back end of the train with PR78510 and HAA barrier vehicle.

Back on home turf, this Bachmann full brake has been in the Shenston Works, having had the incorrectly fitted water filler removed from the roof, and converted to a handrail as it should be.
**************
KARL CROWTHER (HEBBLE VALE GOODS)

A move of house at the end of 2016 effectively put a temporary halt on modelling activities, but progress is at last again being made, the primary objective just now is to get the coal drops fully completed in time for this yearís Expo EM. The first task was to design the metal components for detailing the hoppers. Artwork was prepared in Corel Draw and then sent to PPD for etching in 0.3mm nickel-silver. On the whole, Iím very pleased with my first efforts at this aspect of modelling.

The hopper Ďcarcasesí themselves had earlier been laser-cut from 2mm MDF, the artwork again prepared using Corel Draw. As with the mill buildings, I have Brian Lewis of Timber Tracks to thank for his help with this. Note the two different patterns of framing.

And here can be seen the etched details all assembled onto the first hopper front. Some of the parts have turned out very small and fiddly to put together, but just about do-able with a 1mm bit on the soldering iron. The proportions of the individual components were estimated from photographs and of course sized relative to the hoppers as I had drawn them. Getting the look of all these just so was always going to be a bit of a gamble, but on the whole, Iím very pleased with the overall effect.

This little detail has been in the planning ever since Kier kindly sent me a photo of his Halifax Passenger Transport Bus Stop sign. I manipulated the image in Photoshop to first, square it up and then created a reversed copy for the other side. The images were then reduced and printed onto ordinary computer paper. After carefully cutting out they were glued back-to-back and attached to the post with a dab of superglue. To (hopefully) fix the colour I then coated with Johnsonís Klear. The hexagonal concrete post was simply filed up from square section styrene strip. Although strictly a bit early for my WYPTE period, I remember these well and so have assumed this one, being in an obscure part of town, somehow got overlooked.
And to go with the bus stop, some street lamps have appeared. These have been based on some oil lamp conversions I photographed quite near to North Bridge a couple of years ago. The main part of the column is a Langley casting, with the remainder being fashioned from nickel-silver wire and styrene. They still need to be glued in place (hence the obvious gap here), but capture the look of the originals quite nicely. I did have a problem initially though - the full size ones were painted a strange pinkey-grey shade and when done likewise and placed in front of the wall, they were very effectively camouflaged against the stonework! I managed to find some colour photos of Halifax around this period confirming the use of green, and this shows them up to better effect, I feel, though the lamp housings are still a little inconspicuous.

And finally, a little progress on the rolling stock front has been made with the completion of this Stanier 50í Full Brake. Basically a re-worked Mainline model now riding on Comet bogies. Details on the body include fully re-worked ends to represent a vehicle with the gangway removed, plus separate handrails, door handles, window bars and flush glazed with individually cut pieces of Perspex sheet. The roof ribbing has also been filed back quite a lot too, whilst the original underframe trussing was retained, but with various other details added. Just the weathering to completeÖ.
**************
PAUL JAMES (EASTWELL IRONSTONE COMPANY) ........REVISITED - PART 3.

Here's another batch of photographs recovered from the loft, this time taken by Steve Flint during an exhibition appearance sometime during the late 1980s. The Derby RTC Tribometer train by Greg Brookes passes by the exchange sidings at Eastwell, whilst an ex-BR class 02 hydraulic shunter carries out duties in the yard.

40001 is also spotted with a selection of tool vans. The mainstay of BR traffic passing this spot is again from the Shenston Road stable by Greg.

Track panels awaiting laying are taking up siding space in this view, accompanied by the PW crane and support vehicles. Ex-BR class 14 is on duty on this occasion, as a brace of class 20s leave the area with loaded ore.

An iron ore hopper undergoes maintenance in the foreground, with a BRCW Sulzer tye 2 passing by with empty tipplers.

A quiet moment at the exchange sidings, with more locomotives on view than staff to drive them!

Another view of the maintenance pad as Brush type 2 number 5557 heads off with a special delivery.

The water tower comes in handy once in a while, as the Eastwell Ironstone fleet still has a few industrial steam locomotives on the books. In the foreground is a NBL loco awaiting its next turn of duty.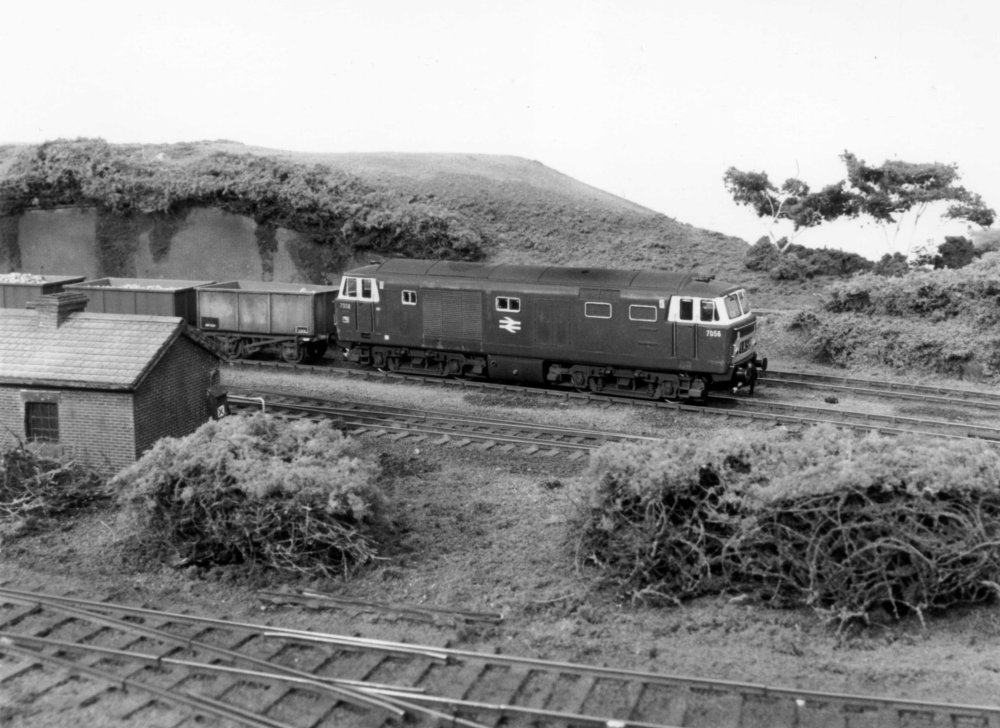 A blue Hymek with small yellow panels gets ready for departure with a train of loaded ore.

I hope you've enjoyed the nostalgia trip back to Eastwell, and if any more images come to light, I'm sure the update page will be happy to accomodate them. Meanwhile, back to current modelling, here's the front end of a Heljan Baby Deltic with a paper headcode box stuck on the front. It's common knowledge that the model's headcode box is too small, so watch this space and hopefully a suitable modification will improve the situation.
**************
PETE JOHNSON (CANADA STREET)

A couple more Hornby Class 08 models are currently being worked on. D3316 was an early (1967) recipient of Rail Blue, and is being modelled to a Rail Online photograph.

In contrast D3381 remained green until after TOPS renumbering. The livery being applied reflects the early 1960s period, before wasp stripes were added.

Class 22 D6333 is pictured after receiving a Dapol bodyshell to replace the previous conversion of Hornby Class 29 parts. The model is now awaiting weathering.

The non-authentic bulge in the engine room bulkhead of the Dapol cab moulding has been removed and a driver and secondman added.

Bachmann Ivatt 2-6-0 number 43063 has recently been renumbered and weathered for Ian Manderson, for use on Hartburn. This loco worked the last regular freight train down the Northumberland branchline that provided the inspiration for the layout.

Prompted by the layoutís booked appearance at the London Festival of Railway Modelling in mid-March, I made my first attempt at backscene painting. In this view the lane beyond the level crossing is taking shape.

The landscape used thinned matt enamels on artists mounting board, and tries to portray the wide horizons of typical of rural Northumberland.

Hartburn was well received at Alexandra Palace, in this view LNER J27 65842 draws into the station on a typical pick-up goods.

In this second view, re-creating the late 1950s, LNER G5 67341 makes its station stop, the new backscene adding useful depth to the scene.
**************
KIER HARDY (WIBDENSHAW)

Wibdenshaw will be making its final exhibition appearance at Railex, Aylesbury on the 28th & 29th of May 2016, and then heading off for retirement to Spain with its new keeper this summer.
If you get the chance to visit the show, please come along and say hello to us, and goodbye to the old girl. Designing, constructing and running the layout has given many years of pleasure, and I'd like to thank all those who have helped out with their input, advice, and of course assistance with logistics and operation at exhibitions.
**************

March 2016&nbsp &nbsp May 2016 &nbsp &nbsp Site Map for archive Update pages
**************
Click below for the homepage & index, and 'refresh' page for the latest changes.