PETE JOHNSON (CANADA STREET)

The bodyshell of Class 15 D8202 has had glazing and cab detail added, and is now ready for refitting onto the chassis. Shawplan 'Laserglaze' made the glazing easy, with a perfect fit of every panel.

An 'Open AB' (TOPS code 'OAA') to Diagram 1/191 is a wagon I've planned to model for a few years now. Introduced amongst the vanguard of the BR air-braked fleet, they first saw service in 1971. The model uses sides from the Hornby version, chopped up into flat panels so that internal plank detail could be scribed before fitting hinge features. The underframe uses pieces from Cambrian and MJT amongst others.

This Diagram 1/219 'Shocvan Palvan' has been adapted from the Parkside bodyshell with a Red Panda underframe. The mouthful of a brand required a special enlarged upper box on the datapanel! Although many Palvans of the offset door style lasted only a short while in service, some of this shock absorbing variant were still running in the late 1970s.

Andy Morris of the Wibdenshaw crew suggested 'Canada Street' badly needed some steel coil traffic. This has inspired a short string of 'Coil J' wagons, made by cutting down kits of Iron Ore Tipplers, in a similar way to the real thing. Coil Js were among the last non-fitted wagons in regular traffic on BR, and will suit a South Wales sequence featuring 1200 'Falcon' on the layout.

A detail view of the wooden cradles in the Coil J, made using pieces of balsa to get some woodgrain effect.

The following sequence of pictures are in response to a visitor to the York show who wanted more details of how I had added some compensation to the Hornby 08 model. The two springs to be used (6mm long, 2.4mm diameter, 0.20mm wire) are pictured in front of the chassis block.

I use a hand-drill to create two spring sockets at the non-driven axles. Piloting the holes at around 1.5mm, and then opening out to 2.5/2.6.

A close-up view of one of the finished sockets. They are about 4 to 4.5mm deep, leaving enough spring action to give downforce to the axle, but not so much as to stop the axles riding on the up stops on a level surface. To drill the middle axle socket the pick-up strips have to be carefully lifted up out of the way.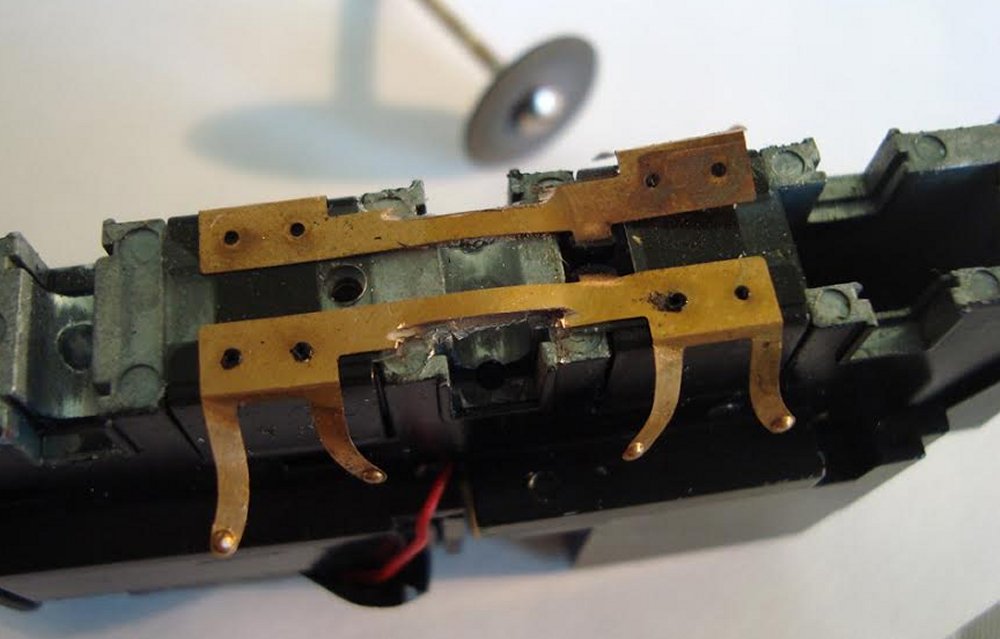 The pick-up strips have to be thinned across the middle axle to allow the axle bushes to move downwards. For this I use a slitting disc on a minidrill. The insulating plastic beneath still needs to be trimmed to match (using a sharp knife) when I took this view.

The plastic cover plate also needs to be adapted to allow downward movement of the two axles. Clearance slots for the four bushes have been drilled and filed to shape.

…and the raised edge has been filed flush in a half moon shape in four places.

With these changes made, the wheelsets – Gibsons on this loco - can be fitted (once the footplate moulding is back in position). I also skim the faces the moulded hornblocks for the centre axle on the outside frame moulding before re-fitting to assist side-to-side movement of the EM wheelset.

A view showing the lifted position of the re-fitted axles caused by the added springs. It is important to ensure that all the brass axle bushes are able to slide freely in the cast slots so that the low spring force is always able to move the axles downwards.

With the cover plate refitted the slots allow the bushes enough downward movement to let the wheelsets follow any uneven trackwork.

The proof of the pudding! With the rigid driving axle lifted on a 1mm plastic block the two sprung axles remain in contact with the surface. Maybe not true compensation, but I certainly believe it assists good running over baseboard joints and suchlike.

The re-assembled loco is pictured ready for numbers and badges to be applied…..
**************
PAUL JAMES (EASTWELL IRONSTONE)

Following a request for front end views of the Airfix class 31, here's a few views of 31272 from the Eastwell loco fleet.

It's still a reasonable bodyshell by today's standards, but the old Airfix chassis & motor are high maintenance.

For good running, this model utilises a double motored Lima chassis.

Comparison photograph showing 5552 (Lima) from the Hornsey fleet, alongside 31272.

Other rolling stock projects include making up some destination and headcode blinds for Kier's class 501 EMU. These are just draft printed to confirm the correct size required.
**************
KARL CROWTHER (HEBBLE VALE GOODS)

One of the jobs I've been working on recently is detailing & weathering some of the road vehicles. After dismantling, the bodies were sprayed with matt varnish and the interiors then painted. This pair is Oxford Diecast and on the Marina I also made up some windscreen wipers from nickel-silver wire (the blue Cortina has them pre-moulded on the windscreen). I had regular use of my Mum's example (GUG 237N) around this time, and it was in the same colours (although the blue was a bit paler I seem to recall, and it wasn't a Ghia as in the model).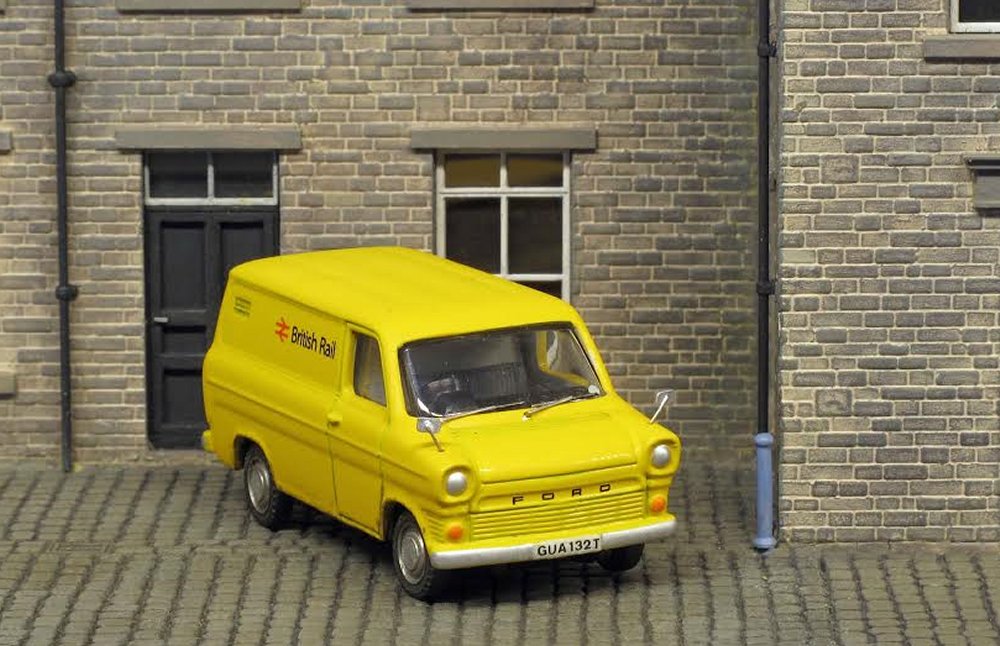 Next in the series of updated road vehicles is this Corgi Trackside British Rail Mark 1 Ford Transit Van. In addition to the windscreen wipers, I've also made an attempt at modelling the very distinctive wing mirrors. As supplied, there's no registration number, so I've made up a generic example using some 1mm tall Railtec transfers, representing a Leeds-registered vehicle from 1979, thus quite late in my intended period. No doubt someone will now come forward with details of the BR-allocated Transit fleet of West Yorkshire in the late 1970s!

This final example is another Corgi Trackside, this time the ubiquitous Bedford HA Van. Again, wing mirrors have been added (note, the earlier style), again with windscreen wipers. This time I went for a fictitious Huddersfield-registered example from 1977. Possibly this is a bit too much of a 'local' identity for West-Riding BR, but you never know…..

After the thrill of Kier allowing the Class 03 to make a brief appearance on Wibdenshaw at DEMU Showcase, it now has its sound decoder fitted and is fully operational on Hebble Vale. Windscreen wipers have also been fashioned and fitted, and a start has been made on weathering it. The match truck needs some 'clutter' fitted onto it, but otherwise the pairing is just about completed and I'm looking forward to the 03 seeing service at Halifax show in September.

Another view of 03 371 and match truck (Parkside kit).

03 371 and match truck again (must have been round Greetland triangle since last photo as it's now facing the other way round!).

A start has also been made on some weathering of the wagon fleet. This is a Parkside 21T hopper that has been painted and weathered using enamel paints – mainly Humbrol, but the dark rust colour is Revell Matt 84. Painting the intricate rust patterns on these vehicles is proving to be something of an artistic challenge, but I'm fairly happy with this first example.

This Chivers Finelines 21T mineral was more simply weathered by a dark wash applied over and then wiped away with cotton buds. Altogether quicker to do than the hoppers, but subtly effective nonetheless.
**************
WIBDENSHAW ON TOUR
Continuing on from last month, a few additional snaps taken at DEMU Showcase by Steve Jordan.

DEMU Showcase 2015

DEMU Showcase 2015

DEMU Showcase 2015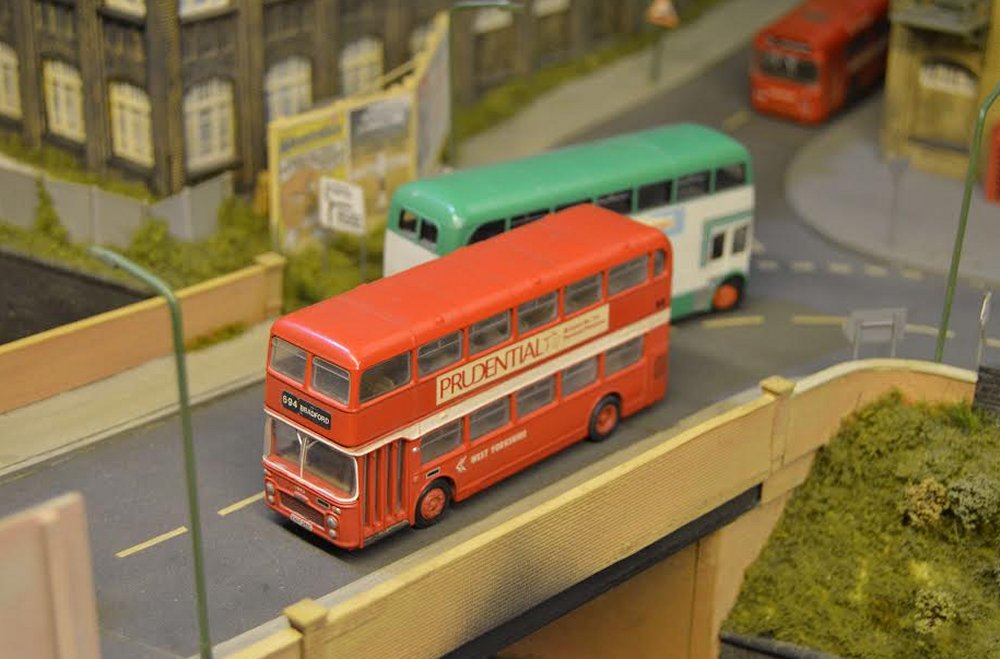 DEMU Showcase 2015

DEMU Showcase 2015

DEMU Showcase 2015

DEMU Showcase 2015

DEMU Showcase 2015
Behind the scenes, and the lighter side of exhibiting at Expo EM & DEMU Showcase!
&nbsp
**************

June 2015&nbsp August 2015