PETE JOHNSON (CANADA STREET)

The making of a sign..…..Not letters for a ransom note, but for the Burton building! These little projects can usually be knocked up on the computer in next to no time, but a rummage through the spare transfers box found a couple of 30 year old sheets from Airfix 'Prestwin' kits with a suitable font. Because of their age the carrier film had turned cream, so I went with the flow and gave the 0.25mm plastic card sign a cream background.

The finished sign, cut out and fitted in position…..and then some geezer lent his bike against it!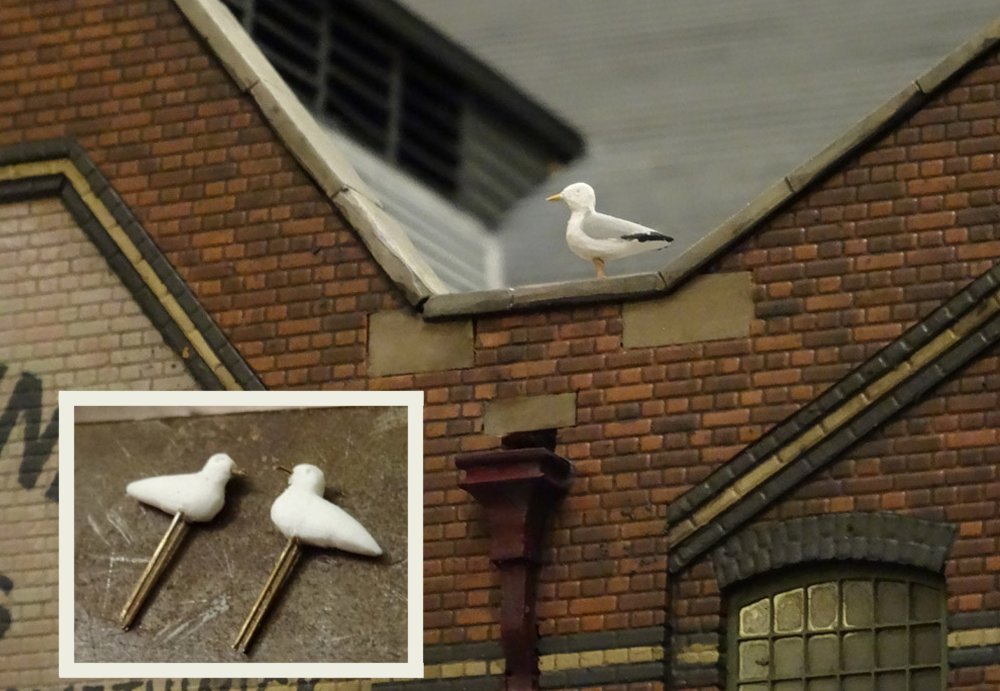 Another finishing touch has been a few Seagulls. These have been shaped from 2mm white plastic, with 0,3 wire used for the legs and beaks..... One of the finished Seagulls takes in the view from the Downing building.

A detail view of cable drums left by the derelict Canada Street entrance gatehouse.

The trouble with picking-out bricks is once you start.....

..... several thousand bricks later, the end is finally in sight! I found that a grime tinted matt varnish worked well for giving varying tones within the same basic brick colour. The view looking up towards the wagon loader beneath the Downing bridge.

A closer look at the bridge reveals it's in a poor state.

Weathering of the waterside face of the building is now complete - this view can be compared with the real structure pictured in the update of a few months ago.

While the weathering paints were out the four Brush type 2s were completed. D5641 finished to a picture of it taken in 1971.

Oil stained 5595, also modelled to a picture taken during 1971.

Stratford's 5501, finished with only light weathering. I find the added grime around the cab front features of Class 31s really brings them to life.

The last of the four, No. 5670, in a typical appearance for the early 1970s.

With most of the finishing touches done, test running has begun on the layout. The first power-up in over a year found 3 cracked solder joints between rails and sleepers causing dead sections, but otherwise things have gone well. In this view - re-creating the mid-1960s - a Class 03 shunts the yard while the driver's Morris van looks on.

Later the same day the loco is pictured taking some vans down the branch into the docks.

Fast-forward a decade, and it is 1974 and Liverpool, where 02 003 is found working in the exchange sidings.

And green TOPS number 24 136 was seen stabled between turns in the yard.
**************

February 2015&nbsp April 2015