PETE JOHNSON (CANADA STREET)

The 55T Arm ET pictured last month is shown after the steel block load has been added.

The second Judith Edge shunter kit has made rapid progress while the methods learned from the first one are still fresh in the memory….

This one is the final style of North British 0-4-0, with increased fuel capacity and a stepped top to the engine cover. Two of these locos have survived into preservation after being sold to industrial use by BR. Both are now back 'home' north of the border where they spent their working lives on BR. (All of the two earlier variants were scrapped)

The steam tug 'Julia' has been completed with the addition of some tyre bumpers down both sides and weathering of the paintwork.

A new departure for me – road vehicles! 'Canada Road' got by without any for 25 years, but on Canada Street they really are needed. Choosing suitable types to cover the 1960s and 70s is a challenge, and perhaps a bit of a historical 'stretch' if I'm honest. For an HGV I've chosen this ERF KV 4-axle flatbed…..a chassis format that is mostly used only in stone tippers these days, but was far more common before articulated rigs were permitted. The vehicle models available now feature superb livery detail, and all I've had to do is customise the tarped load a bit and add a little road grime.

Meanwhile on the layout itself, the Paul and Burtons buildings have been blended to the dockside hardstanding using my usual mix of grime tinted matt varnish. To judge by the Anglia van R&W Paul must have the electrician in.

A 'drone cam' view of the dockside rail lines, looking under the R&W Paul loading gantry.

Over at the old G&W.E.Downing buildings the waterside loading pipes and columns have been weathered.

Looks like the vandals have been busy on the now empty main Downing building.

It must be a big re-wiring job at R&W Paul - the van was still there as the sun was going down!
**************
KEITH TRUEMAN (LESNEY PARK)

The layouts traverser of six tracks is now functional as a storage platform for the off scene area.

I have used a simple, self designed locking system to keep tracks aligned, a single pin only through a piece of U channel, perhaps not an original idea but it is much speedier to use than the more popular twin bolts method.

Electrical power to the six tracks is via a rotary switch, a personal preference away from using the twin rail side bolts to convey current. SPST's will also be installed to form a bank of switches for the Locomotive refuge roads at this terminating end of the traverser.

To keep the traverser table wiring loom tidy, and safer, the wires are shielded within a flexible tube wrap.
**************
KIER HARDY (HORNSEY BROADWAY)

With a class 08 shunter and a NBL class 16 already receiving attention, Deltic 9009 Alycidon enters road 3 at Hornsey Road depot.

D3312 is on shunting duty at the wagon works, which sees the arrival of 2 new Hornby R6677 hopper wagons. I've already got a few different design 21 ton hoppers in the fleet which have been built using the Mainline / Dapol model, and a variety of Parkside kits (one shown above looking rusty). The bodies have been removed to aid the fitting of Smiths 3-link couplings. On the back siding is a collection of other wagons (Bachmann) awaiting attention before entering service.

Representing LNER built 21 ton hoppers, the model is also suitable for some early BR built wagons utilising the same chassis / brake arrangement and rivetted body. On the left is a wagon straight out of the box, the middle two undergoing some detailing work, and on the right a Parkside kit.

I've repositioned and fitted new handrails as per the photograph of E270706 in David Larkin's 'Working Wagons' book (vol 1 page 18). There's just a few finishing touches to do, including the application of OHLE warning flashes. These hoppers will have to remain empty at all times unless the position of those bottom door operating handles change!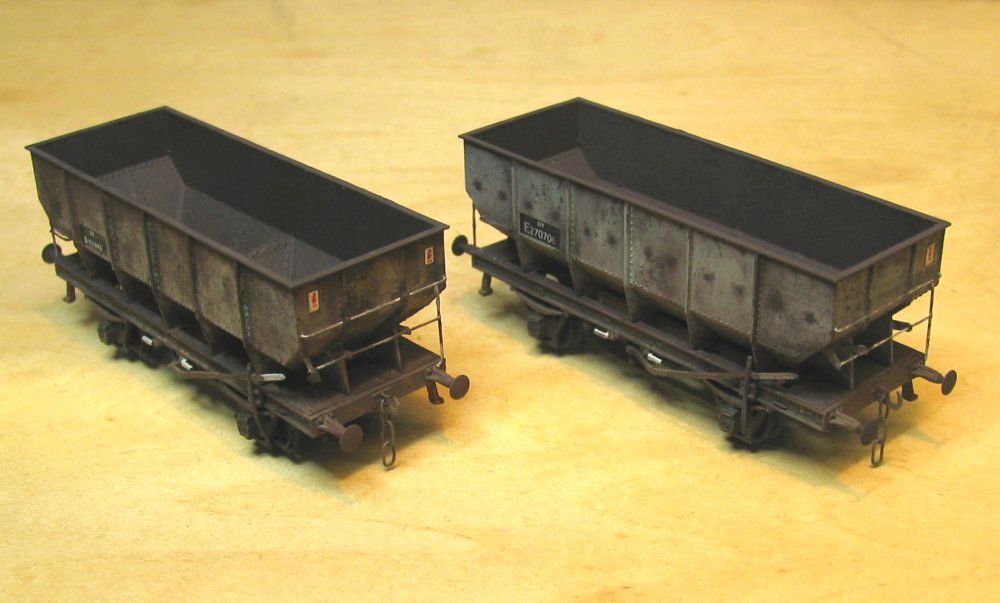 With the required modifications finished, these 2 hoppers are ready for service. As with all my wagon projects, thanks must go to Paul Bartlett and his collection of photographs and information.
**************

January 2015&nbsp March 2015