by Kier Hardy
&nbsp


Hornsey Broadway is situated in North London on the ex-Great Northern main line out of Kings Cross, with the
East London line diverging here. The scene represents the station to the north, a loco depot at Hornsey Road,
and in between is a typical north London landscape.

As well as a section of mainline from Kings Cross, the layout also features a busy North London route
which is regularly used for inter-regional traffic and local suburban services.

In addition to the busy main lines, the motive power depot at the south end of the layout
provides most of the locomotive servicing requirements for the Kings Cross area.
Background history to the project
The Northern Heights railway was opened by the Great North Railway in 1867, and served outlying areas of North London
(Edgeware & High Barnet) with services from Kings Cross. Plans to extend the railway as far as Bushey were abandoned
during the 1940s, with some of it having been built but never used.
Had the line been completed all the way to Watford, it would have seen a wide variety of traffic travelling from the Midland
Region to the east side of London, as well as an extensive suburban service from Kings Cross. The London Transport
Northern Line eventually took over most of the route, with the last part of the link between Finsbury Park and Highgate being
used for LT stock transfers, and the line being abandoned during the early 1970s. The potential for a 'Barnet loop' would have
allowed ECML traffic to be diverted through the area.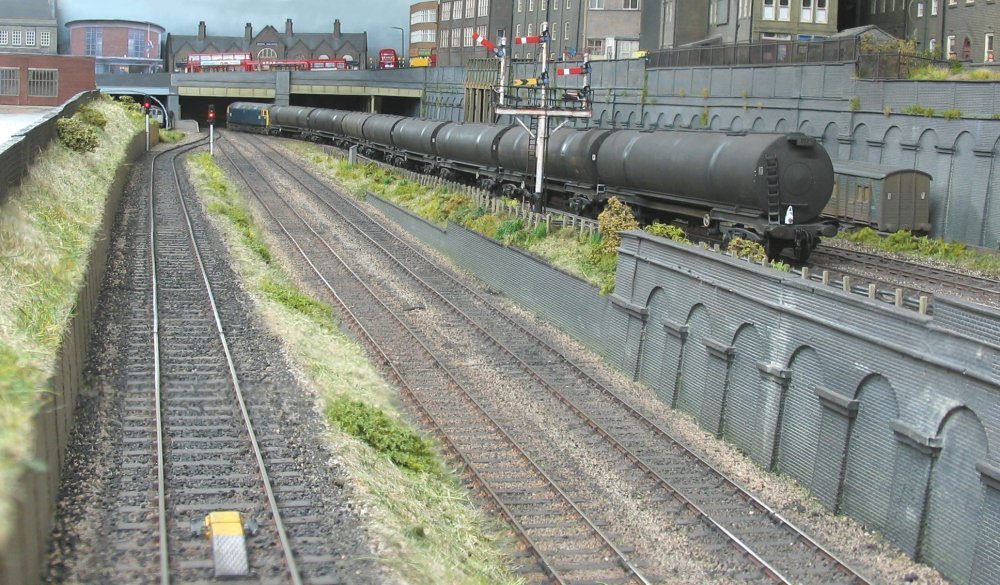 Hornsey Broadway sets out to represent the line as it would have appeared during the early 1970s, with the junction and
line from Stratford, joining the GN tracks from Finsbury Park. During modernisation of the line in the 1930s, a 'down' fly-over
and additional tracks were built into the route to allow for better flexibility of services, due to the increase of suburban living.

The road vehicles will play an important role in re-inforcing the north London flavour and era of the project.
Here a Daimler DMS (EFE) passes an AEC Merlin (Britbus).

Rolling stock for the layout will cover a good cross section of locomotive and DMU types, to include class 125
and class 501 high-density units. A small scene will include part of a LT tube station, showing a rake of
1959 stock waiting in the station with the doors open.

A map of the area being modelled - click for a larger image.
Reference Links -
The Northern Heights Railway

Highgate Station

The London Transport Daimler DMS history